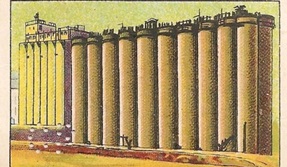 10.09.2018
The JSC «Uzdonmahsulot» represents the dynamically developing part of the bread-production industry of Uzbekistan.
The structure of the JSC is represented by:
Enterprises involved in purchasing, dislocation and storage of the grain and seeds for the governmental purposes;

Production lines that provide branches of the industry and population of the Republic with the finest brands of flour, groats, fodder as well as bakery, macaroni and pastry products.
History of the industry as a whole system for grain storage and processing is known for 3 centuries. Even nowadays there are active mills built in 19th century, though their appearance has changed significantly. Water and steam mills were replaced with the mills equipped with modern high productive equipment. One of such mills, now named as «Tashkent non shahri», was built in 1885. This mill was the largest and the best mill in Turkistan region producing 30 tons of flour a day for 25 years (until 1910). First steam mill in Tashkent was built in 1910 (present JSC «Galla-Alteg).
Management structure of the storage system began with creation of the control office in Tashkent in 1867. This control office was working in the area of bread-product preparation for the governmental needs on the free-exchange basis. And preparation of the grain for the needs of population in most cases was carried out through mediators who gathered large amounts of grain and organized its primary processing and storage.
Beginning from 1928 the bread monopoly was set in Turkistan region which existed up to the end of Soviet authority existence. That time regional provision directories were created for preparation of the grain in all regions. These directories were managing all preparation process from its beginning to the end. Preparation was done in the form of natural tax, e.g. 127 collecting points were built near the railway stations so that farmers could sell the grain to the government at fixed prices. Some of these points then served as a basis for creation of the Network of Preparation and Selling Points «Zagotzerno». Provision tax was abrogated in 1924 and from that time on preparation of agricultural products is done in the form of purchase through Ministry of Preparation.
Ministry of Preparation of Uzbekistan has numerous predecessors, including «Turknakomprod» and «Aziahleb». In 1932 «Aziahleb» was replaced by Republican office «Uzzagotzerno» and «Uzglavmuka» trust. On July 20, 1956 the Union-Republic Ministry of bread-products of Uzbek Social Soviet Republic was formed. In 1922 bread-production industry consisted of 7 mills, and population of Uzbekistan was equal to 4 million people. In 1943 the amount of mills was increased up to 10 processing up to 300 thousand tons of different sorts of flour and semolina.
When formed in 1956 the Ministry of bread-products consisted of 73 production lines, 11 depths points, 3 storehouses, 3 hay storage points, 15 quality and fodder mills and 3 groats plants. 3 quality mills were working in Tashkent, one in Kuva city, one in Fergana, one in Andijan and one in Samarqand city. Fodder mills were introduced over 2 year period (1941-1943) in Bukhara, Djizak, Karshi, Kattakurgan, Samarqand, Urgench, Termez and Nukus cities. Two groats plants (one in Tashkent and another in Samarqand) were producing barley, rice and wheat. At that time population needed 1300 thousand tons of wheat while quality mills were producing only 360 thousand tons (28%) of what was needed. Therefore 10 more quality mills were built and put into operation in 1958-1964. Fodder industry began to develop in the second half of 1959. During 1960-1961 16 small-scale fodder plants were built in Fergana, Kokand, Tashkent, Asaka, Kuva, Djizak, Samarqand, Kattakurgan, Kagan, Bukhara, Karshi, Urgench, Nukus, Termez and Kizil-tepa cities.
In 1961 the government adopted a crucial resolution «On reconstruction and modernization of organization of state purchase of agricultural products». According to this resolution grain purchase must be made only by means of signing contracts. All other means of grain preparation were forbidden.
The Ministry of bread-products was abolished on March 24, 1961 and the Ministry of preparation was formed which included regional state inspection offices. State inspection office for grain preparation and quality control was chaired by the Main state inspector. This new Ministry was one of the largest preparatory organizations ever formed during Soviet Union period.
New reorganization was made in the industry of bread-products on May 1965 and as a result the Ministry of bread-products and fodder industry of the Republic of Uzbekistan was formed. New Ministry paid its main attention to finalizing works that had been begun including reconstruction of active enterprises and automation of hard manual labour. At some plants the issue of flour storage and selling without using package was successfully realized. For this purposes special tanks were built. Non-package storage, selling and transportation of flour showed high efficacy because hard manual labour and bag-costs were eliminated. Fodder industry started to develop in 1965-1969 when fodder produced at that time was enriched with antibiotics, vitamins and microelements. Moreover, granulation of the fodder had been started.
In 1970 active Ministry was again abolished and the Ministry of grain purchase was formed on its basis. During next 10 years high raise rate of the basic funds of industry was observed. Technological production level and the volume of production produced were increased. By 1980 flour production was increased 3.3 times, groats production was increased 18.1 times, and fodder production was increased 11.6 times when compared with the data of 1969. Specific weight of production of the finest flour was increased from 49.2% (1970) up to 83.7% (in 1980).
During 1981-1985 new mills were put into service in Kuva, Navoi, Fergana and Uchkurgan cities which produced totally 1300 tons a day. Also, new elevators were put into service with total capacity of 240.2 thousand tons. During the same period 11 mills were modernized and partially renovated. On other 13 mill-plants and 5 rice plants technical modernization with capacity increase up to 300 and 230 tons of grains a day correspondingly was carried out.
In 1986-1990 new reorganization was made in agro industrial sector. The Union Ministry of grain storage was abolished on October 14, 1985 and Union-Republic Ministry of bread-products was formed on its basis. After 6 month this Ministry was again reorganized and this time it included the union of bread-product, macaroni and pastry industries (named «Uzkhlebprom») together with its 22 subordinated bakery enterprises. New Ministry did the same job as the formed Ministry. During 1987-1990 production capacity continued to increase rapidly. New enterprises were put into operation, these include:
7 mills for sort-flour production with total capacity of 1900 tons a day (including Aktash, Akaltyn and Kurgantepa mills equipped with high-productive equipment);

4 plants for groats production with capacity of 100 tons of grain a day (Nukus, Shovot, Syrdarya, Urgench);

7 fodder plants with capacity of 1910 tons a day (including Akaltyn and Khankin plants with capacity of 630 tons a day, Dustlik and Uchkurgan plants with capacity of 250 tons a day, Akkobog plant with 100 tons a day and Muzrabad (Gagarino) plant with capacity of 50 tons a day).
12 mills were technically modernized and the old equipment was replaced with new high-productive equipment. As a result the total capacity was increased up to 573 tons a day. Similar modernization was carried out at the plants for groats production. During the same period more than 300 thousand tons of elevator capacities were put into operation.
Large capacities of mill plants, that were put into operation during 1987-1990, were the final step of bread-product industry development. At that time bread-product industry was fully providing the needs of population. During the same period the Ministry of bread-products was reorganized into the State Concern «Uzkhlebprodukt». The Decree of the president made on April 22, 1994 played an important role in improvement of the industry activity. According to this decree the State Concern «Uzkhlebprodukt» was reorganized into the State Joint Stock Corporation. President's Decree initiated the process of privatization of the industry enterprises. During 1995-1998 13 large shops for groats production, 30 fodder plants and 52 flour plans were privatized.
If these enterprises had enough resources they could produce more that 300 thousand tons of groats, 3 million tons of fodder and flour per year which would satisfy the needs of the Republic.
The State Joint Stock Corporation «Uzdonmahsulot» was reorganized into JSC «Uzdonmahsulot» according to the Resolution of the Cabinet of Ministers of the Republic of Uzbekistan of August 6th, 2004 with the purpose of perfection of the purchase, storage and processing management, further development of the industry, privatization processes activation and investments attraction. As before the JSC «Uzdonmahsulot» deals with the purchase, storage and processing of the grain of the governmental reserve into bread-products. It should also provide the economy branches and the population of the Republic of Uzbekistan with the bread-products.
Aat present time joint-stock company «Uzdonmahsulot» has 43 enterprises and 25 branches.
There are 58 mils, 114 bread baking manufactories, 46 pasta manufactories, 45 grain production manufactories and 2 crushed grain production manufactories.
In order to supply food products to the domestic consumer market, to expand the range of products, to provide the population with quality bakery products, pasta and grain the enterprises of «Uzdonmahsulot» carry out systematic work.
In order to expand the range of products in 2010-2017 were created and worked 77 units of modern equipment from Russian company «Vinix», manufactured by German company «Wachtel». The result is that the quality of our products has improved and the production of bakery products has increased. Today these manufactories produce 40-45 different types of bread and bakery productsThere were created conditions for the delivery of hot bread to the people, living in remote regions of our country.
In 2010-2017 20 modern pasta manufactories were put into operation . As a result, a pasta manufacturing was increased at 15-17 times. Also, there was created a pasta packaging line for small packs.